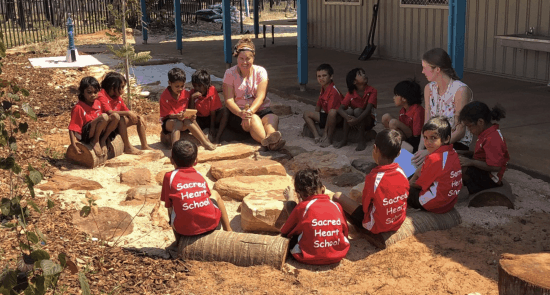 Sacred Heart School school, on the country of the Nyul Nyul people in the remote community of Beagle Bay, on the Kimberley coastline of Western Australia, caters for 90% Aboriginal students from Kindergarten to Year 10.
Lyla Forte, the school's Principal says the Stronger Smarter Leadership Program emphasied the need to aspire to quality relationships on a daily basis.
"Unless you have the quality relationships and a safe, positive environment, you're never going to get anywhere. No one is going to learn, whether it's a teacher or student."  Lyla Forte, Principal, Sacred Heart School
Together with Assistant Principal Amy Christophers and Aboriginal Teaching Assistant, Tracy Dann, who is also an SSLP graduate, Lyla has introduced Yarning Circles across the school to help build stronger relationships between teachers, students and families in staff meetings.
Amy says she came away from the SSLP feeling empowered by a sense of all educators taking on responsibility for the standard of high expectations and giving the children an opportunity to rise to those standards.   She says they discussed the Institute's High-Expectations Relationship (HER) position paper at one of the staff meetings, "that was really useful and allowed us share with the other staff what we'd been learning about in the Leadership Program."
Building relationships with families
They introduced a Yarning Circle with parents for the year 5/6 and then the secondary students, particularly when there were a few meetings before students went away on camp. Lyla says initially they were nervous. "It was interesting – the parents' reaction to being part of a Yarning Circle and checking in. They giggled a lot. But once they'd listened to the speech and, when it came to their turn, they participated really well. It also cleared the whole equality of equity. We're all equal here. We all have something to say, and what we say will be valued."
Amy agrees that even one meeting with secondary families in the yarning circle made a difference. "At check-in time you could see they were a bit unsure, but they still had a go. But then by the end they're checking out, they were a lot more confident just within that one meeting. When they checked out they really shared more."
Lyla says that the Yarning Circle process helped with a meeting with the 5/6 students and families about behaviour and resulted in positive input from parents and everyone collaborating to work towards the goal rather than the school dictating what should happen.
"It was one of those meetings that could have been very, negative. But because we approached it from a Yarning Circle perspective and we approached it so that the questions were not negative, the parents participated. By the end, they had lots of positive things to say in terms of what we should do and what we shouldn't do. So you have that partnership or that collaboration," said Lyla.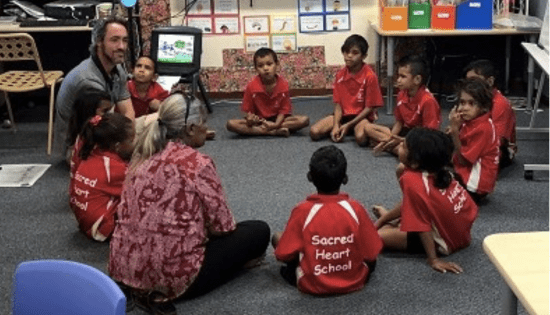 Making a difference to students
Yarning Circle are also making a big difference to the students. Lyla says, "I've just come from a kindy class. They say how they're feeling and why they're feeling it. So it's really great. It's having a big impact on our kids."
Lyla says the introduction of Yarning Circles has been a starting point for the school, and they are now looking at what they should be doing next to roll out the Stronger Smarter Approach in their school. They would love to hear from any other schools who can provide ideas.